Get remarkable light output from an LED source using much less power than a comparable lamp.
Retrofits
Did you know you can retrofit your existing Source 4 fixtures to LED? This is a great cost-savings alternative to completely replacing fixtures you already own, and it is now available with white-light and full-color options. Scroll down for more information.
Replacements & New Fixtures
If you don't have compatible fixtures for a retrofit or need more options, upgrading to new LED fixtures is a great choice. With so many products now available from top brands, we'll have something to suit your needs. Scroll down for more information.
Whether you have existing fixtures and are looking to retrofit them to LED, looking to replace your current fixtures with new LED ones, or starting from scratch and considering LED fixtures, we've got solutions for you. An investment in LED lighting equipment will yield savings in energy and maintenance costs for years — All while drastically improving the look of your space.
With a full family of options available, you can retrofit existing Source Four incandescent fixtures, or add to your inventory knowing that you're gaining some of the best white light LED technology on the market. Available as Source 4WRD Spot, PAR, PARNel, and as an LED retrofit. All Source 4WRD fixtures are available in both warm and cool white arrays.
Warm white 80CRI or 90CRI (Gallery) – perfect for any venue looking for a warm white light. Cool white 90CRI (Daylight Gallery) – ideal for television studios, industrial trade shows, and other live events, this array provides the coolest, and brightest white light in an LED fixture.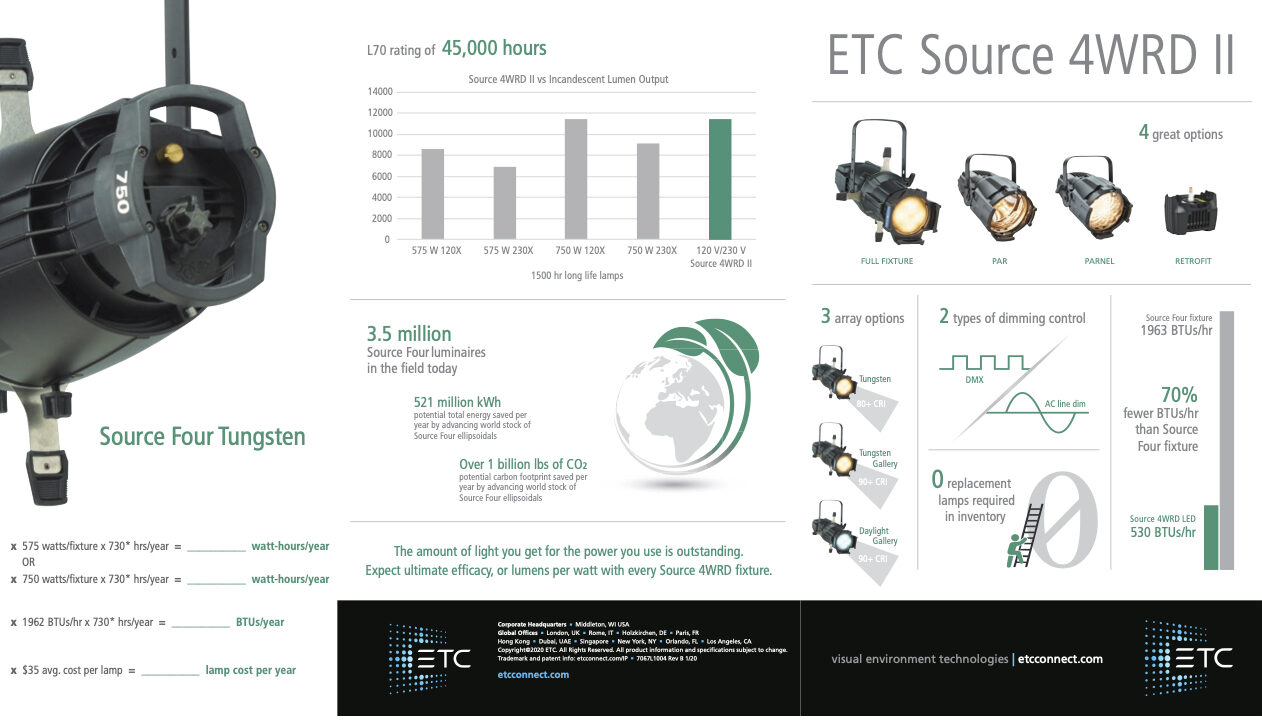 The Source 4WRD Color LED engine transforms your existing Source Four incandescent profile into an RGBA LED fixture, unlocking the world of additive color mixing, saturated washes, and quick color changes. It means more stage looks with fewer fixtures using less energy and needing less maintenance, all at a compelling price point. It takes less than five minutes to upcycle your Source Four to 4WRD Color. The Source 4WRD Color provides a simple, cost-effective, non-destructive retrofit of existing Source Four profile fixtures. You can quickly convert an incandescent Source Four ellipsoidal fixture to an RGBA color-changing luminaire while retaining all the best features of the Source Four.


Upgrading to new LED fixtures means you'll have fixtures with cutting-edge technology, endless options, and energy savings. We are dealers for many top brands that offer a wide array of products for every venue and scenario. Get in touch with our sales team to discuss what options suit your needs. Check out our line card below to see a list of manufacturers we are dealers for.